How to Make a Donation in Dallas, Plano, Irving & Surrounding Communities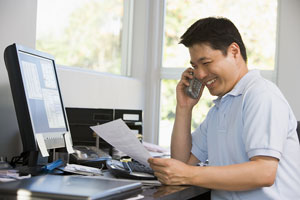 Many people shy away from making a donation to charities because the process seems too complex and time-consuming. However, when you choose to generously donate your unwanted clothes and household items to American Kidney Services (AKS), you'll enjoy a number of simple donation options that can make helping others fast and convenient.
Making a donation to the Dallas AKS has never been easier. We offer 5 convenient ways to donate:
Call us at (214) 275-8808 and request to be added to our rotational donation pick up call list. You'll receive a call from us when donation pickups are scheduled in your area, inquiring whether you have any items to donate. Our rotational donation pick up drivers operate from 6:30 a.m. to dark, Monday through Saturday.
Fill out our online form to be added to our call list. We'll call you when we plan to be in your area to make regular donation pickups.
Schedule a special pickup by calling our office at (214) 275-8808. Our uniformed drivers perform special pickups on Saturdays to service customers with larger donations – such as tables, dressers, or other non-upholstered furniture, or unsold items from community-wide or neighborhood yard sales – that cannot be picked up during our regularly scheduled rotations. Special pickups are also helpful for donors who simply cannot wait for our rotational pick up in their area and who need to clear items out of the way as soon as possible.
You can also use our online form to schedule a special pick up. Whether you have items left over from your family yard sale, or would like to donate your current living room set before a new one is delivered to your home, AKS can pick up your larger donations on a Saturday. We cannot, however, accept large appliances.
Drop off your clothing and household items at one of two Dallas Value World donation centers from 9 a.m. to 9 p.m., Monday through Saturday, and 10 a.m. to 6 p.m. on Sunday.
AKS is a 501(c)(3) charitable organization dedicated to helping kidney disease patients and their families. Your donation of men's, women's, and children's clothing, linens, electronics, books, and household items is turned into direct financial support for patients on dialysis struggling to ends meet. Donate today, whether you live in Dallas, Grand Prairie, Plano, Mesquite, Carrollton, Coppell, or anywhere else in the greater Dallas area. Contact us for more information on how and where to donate.