How to Donate Clothes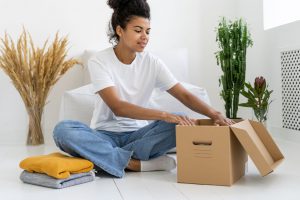 Ready to clear out some space in your closet and donate your no-longer-needed clothes to a good cause? Thanks to American Kidney Services, donating clothing to charity has never been easier. In addition to our many donation drop-off locations, we offer convenient, rotational donation pick up services throughout the neighborhoods and communities of the greater Dallas area. We can even accommodate donors with a large volume of items or with heavy donations (tables, dressers, etc.), as well as those who need an expedited pickup and can't wait for our regular rotational pick up service.
Donate Clothing the Hassle-Free Way
To donate your clothes through our contactless donation pickup program, all you have to do is:
Bag or box up the clothes you want to donate and label them "AKS"
Leave the items outside the designated pickup site (we can pick up from your home or place of business) on the day of
Let us take care of the rest
With AKS, donating your clothes to charity is a simple, stress-free process that you can feel good about from start to finish. Not only do we make donating easy, but we also accept these donations on behalf of an outstanding cause. We work alongside the American Kidney Fund, a certified charitable organization that provides vital funding to the fight against kidney disease—a fight that your donated clothing helps support. With help from the American Kidney Fund, your donations transform into direct financial assistance to help patients suffering from this debilitating disease.
Donate Your Old Clothes & More
We happily accept tax-deductible* donations of men's, women's, and children's clothing, as well as household items like toys, books, electronics, shoes, housewares, decorative items, and much more.
Learn More About How to Donate Clothes in the Dallas Area
Now that you know how easy it is to donate clothes to American Kidney Services, the next steps are simple. Get started today by getting in touch—we'd be happy to tell you more about the cause we support and the donations we accept. To learn more about how to make a donation in Dallas or to join our donation pickup list, click here.
*To the fullest extend allowed by law.