Donate Toys to Dallas Charity AKS and Help Support Kidney Disease Patients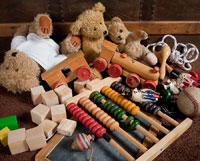 Did you know that you can donate toys to a charity is Dallas that will ultimately benefit people suffering from kidney disease? At American Kidney Services (AKS), we accept toys and many other items as donations, and use those goods to generate proceeds that provide much-needed assistance to kidney disease patients. You can donate baby toys, stuffed animals, handheld electronic games, video game consoles, and other toys for people of all ages to support our organization's mission of helping people in need.
We make it easy to donate toys to our charitable organization. You can:
Call us at (214) 275-8808 or use our online form to schedule our free donation pickup services; we'll gladly come to your home or office to pick up any toys you would like to give to our charitable organization
Drop off toys for AKS at any Dallas area Value World thrift department store
In addition to toys, our good charity accepts a wide variety of other items as donations. You can donate clothing, furniture, books, home electronics, cookware, linens, and many other household goods to our local charity and make an impact in the lives of people in need.
Contact us today if you would like to donate toys or other items and help our charitable organization's mission of giving support to people suffering from kidney disease. We proudly welcome donations, which are tax deductible*, from all communities surrounding Dallas, including Plano, Farmers Branch, Mesquite, Carrollton, Rowlett, Grand Prairie, and Irving.
*To the fullest extent allowed by law