Donate Clothes to Dallas Charity AKS and Support Kidney Disease Patients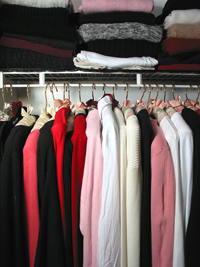 When you make the decision to donate clothes to Dallas-based charity American Kidney Services (AKS), you can greatly impact the life of a person in need. Our charitable organization uses generous gifts of clothing to generate proceeds that we donate to the American Kidney Fund, a nonprofit organization that provides financial support to chronic kidney disease patients. The clothing you donate to our charity will inevitably help kidney disease patients who are struggling to pay for treatment-related costs.
Finding clothes to donate to our Dallas organization is simple. It can be any style, from vintage and urban to classy and punk, and for anybody – men, women, and children.
There are many different types of clothing to donate, including:
Shirts
Shorts
Jeans
Skirts
Suits
Slacks
Jackets
Dresses
Coats
And more
In addition to donating clothing, you can donate a wide variety of other items to AKS, including couches, love seats, beds, and other home furniture; TVs, radios, and other home electronics; and other household items like cookware, linens, small appliances, toys, and books.
To make a charity donation to AKS, simply call us or use our online form to request a special donation pickupfrom your residence, or to join our regular pickup schedule. You can also take the items you wish to donate to a Dallas-area Value World thrift department store.
Contact AKS today if you would like to donate clothes to our Dallas charity. We gladly welcome a clothing donation from all Dallas-area communities, including Grand Prairie, Irving, Plano, Carrollton, and Mesquite, and we are ready to make a clothing pickup.