AKS Offers Donation Pick Up Services in The Colony, TX & All Nearby Communities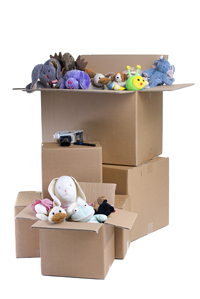 If you have items you want to donate to charity but need an organization to pick up the donation, then look no further than American Kidney Services (AKS). Our charitable organization gladly picks up donations in The Colony, Texas, and all surrounding communities, giving local residents an opportunity to donate to a great cause without being burdened with transporting goods to a nearby donation center. Every item donated to AKS benefits people who are affected by kidney disease, a life-threatening illness that affects men, women, and children. Generous donations to our charity produce funds that support programs and services of American Kidney Fund, which provides kidney disease patients with direct financial aid for dialysis and other necessary medical care.
Residents of The Colony, TX, and the surrounding area can help kidney disease patients in need and take advantage of our complimentary donation pick up service by following these simple steps:
Gather the items you want to donate to our charity
Bag or box those goods, and mark the packages "AKS"
Use our online form or call us to arrange for our drivers to make a donation pick up, or join our call list to be notified when we will be in your neighborhood collecting items during our regular rotational schedule
Place the goods you want to donate outside of your home or business on the scheduled collection day
AKS gladly accepts a wide range of common household items as donations, including clothing, electronics, toys, books, non-upholstered furniture, small kitchen appliances, cookware, linens, blankets, and much more. All donations to our charity are tax deductible*.
Contact us today if you would like to schedule a donation pick up. We conduct this complimentary service in The Colony, TX, and surrounding communities Monday through Saturday from 6:30 a.m. until dark.
*To the fullest extent allowed by law